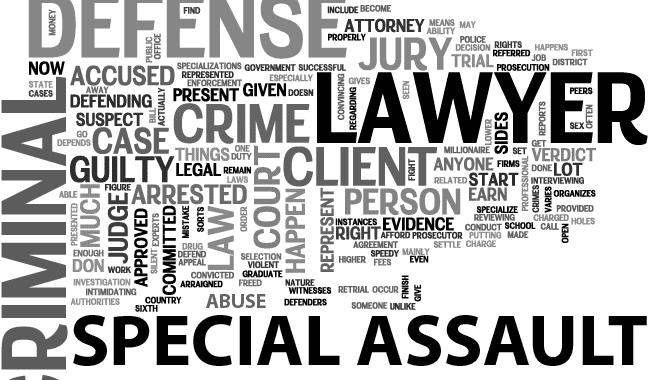 Defending Special Assault Cases—Uniquely Challenging, Uniquely Rewarding
My job is unique. People seem to get that almost immediately. When I meet someone new, the conversation often goes like this:
"What do you do for a living?"
"I'm a lawyer."
"What kind of lawyer?"
"Mostly criminal defense. I focus on special assault cases."
"Oh. That must be interesting. (Pause, with puzzled expression) What kind of cases?"
The police and prosecutors here in Washington State coined the term "special assault" cases. They use it to mean child abuse, sexual assault, and domestic violence cases. That's what we at The Marshall Defense Firm mean by it, too.
When I explain that—when I say that most of my clients are accused of rape, child physical abuse, or child sex abuse—most people react in one of two ways. Some say, "That must be interesting." And some say, "I could never do that." Both reactions make sense to me.
My job is very interesting. In fact, I don't think there's a more interesting job in the legal profession. I get to work closely with my clients, talk with some of the leading experts in the fields of forensic psychology and medicine, and think about and argue complex legal issues in state and federal courts—not just in Seattle, where we have our offices, but across Washington State.
Meeting new clients is one of my favorite parts of the job. As a people person, I really enjoy meeting people and hearing their stories. I find everyone's tale fascinating.
One of the most satisfying things about talking to clients for the first time is that they frequently say, "I feel so much better after talking to you." It's rewarding to see how my compassion helps clients, to see the relief they feel because of it. At that point they understand that for me this is not just of job of counseling and advocating for clients. They understand that I care about them.
There are great challenges, of course, in special assault defense. My clients are charged with crimes that can put them in prison for decades and severely restrict their activities even after release. But more important, they are charged with crimes that elicit revulsion and exceptional outrage. In some ways, it would be better to be charged with murder.
Undergoing prosecution for sexual assault, especially against a child, is the greatest life crisis most anyone will ever face. The entire life of the accused is in peril: their profession, their family, their place in the community, and, of course, their liberty. And sometimes the case plays out in the news media, for all the world to see.
The stress of the accusation often requires me to emphasize the counseling aspect of the attorney-client relationship. Clients don't just need legal advice; they also need practical advice. Because of my experience helping many people in such cases, I can give practical as well as legal advice.
Many attorneys avoid handling sexual assault and child abuse cases. Looking at child pornography or photos of someone who's been assaulted can take an emotional toll even on a professional.
I've learned to manage the shock, to stay grounded, to focus on doing the job my clients depend on me to do. I know they need me to view and analyze the State's evidence clearly so I can best advocate for them and advise them.
I didn't always have a practice focused on special assault cases. In fact, it's a recent development in my career. Before I joined The Marshall Defense Firm, I had reservations. I'm a mother. I wondered if it would be too difficult to work only on special assault cases.
But on joining the firm I found that I could do the work—could do it with passion, fighting hard for my clients at every turn.
And I've seen how my clients benefit from my deep experience in special assault defense, experience that comes from focusing my practice on that kind of case. It's like the rationale behind the world-class Medic One program operating here in King County. Even though Seattle has a lower rate of paramedics per capita than most cities, we have one of the highest cardiac survival rates in the nation. That's because having fewer paramedics means each paramedic gets more experience and develops more expertise. And more expertise means better outcomes for people hit by heart attacks.
The same principle is at work at The Marshall Defense Firm. Our focus on special assault defense, both criminal and civil, is unique. We are therefore uniquely positioned to help our clients.
And helping clients is why I chose—and choose again every morning—to do this work.