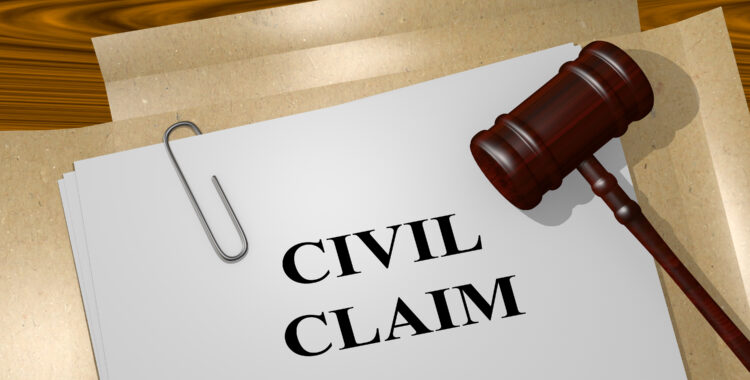 Four Things You Need to Know about Civil Claims for Sex Abuse and Sexual Assault
While most imagine sexual abuse and sexual assault cases to be tried in criminal court, a person can also file a civil claim for sex abuse or sexual assault. With the harm to reputation that any sexual abuse court case brings, it might be hard to differentiate between criminal and civil cases. But while the underlying claim is the same in both, civil abuse claims are very different from their criminal counterparts. If you are preparing to defend against a civil suit for sexual assault or sex abuse, or know someone who is, there are four key differences you need to know about them.
Civil abuse judgments can impose only money damages, not jail or prison time, and the amount of the damages must be proven.
First, a civil claim for sexual abuse can seek only money damages. Civil cases cannot put the defendant in jail or prison. The civil plaintiff—the person alleging the defendant assaulted or abused them– must prove two things. They need to show the defendant committed the act-as would be necessary in a criminal case—and they need to prove how their life was damaged by the abuse. The plaintiff must persuade the jury to put a dollar value on that damage. 
The plaintiff may assert that they have suffered chronic substance abuse, mental disorders, unemployment, sexual intimacy problems, trust issues with men, a lack of fulfilling relationships, or other forms of "pain and suffering," as the law calls such psychological injuries. While easy-to-quantify losses such as the cost of therapy or lost income can be part of the damages award, the hard-to-value psychological injuries usually lead to much bigger money awards.
When defending against a civil claim for sex abuse or sexual assault, the defense can deny that the abuse occurred, as it probably would in a criminal trial. In a civil case, the defense can also assert that the plaintiff's life has gone much better than they claim, or that the plaintiff's psychological injuries have resulted from some event other than sex abuse by the defendant. It would be contradictory, of course, to say, "My client didn't abuse the plaintiff, and the plaintiff has suffered much less from the abuse than they claim," but a skillful attorney can make both arguments—can dispute both "liability" and "damages", as lawyers put it–without their being contradictory.
Civil abuse claims have a much lower burden of proof for the plaintiff.
Persons making civil claims of sex abuse and sexual assault have a lower burden of proof for the the prosecution has in criminal cases. The plaintiff needs to prove their claims by a "preponderance of the evidence.". In other words, they need to prove their claims more likely than not true. Some call this "50% plus a feather.". This is quite unlike a criminal case, in which the defendant is to prevail unless guilt is proven "beyond a reasonable doubt."
III. There can be multiple defendants in a civil abuse suit.
Civil abuse claims can target both the alleged abuser and those who facilitated the abuse. The plaintiff could add the spouse of the alleged abuser as a defendant if the spouse knew or should have known the abuse was taking place—or was likely to take place–and failed to take steps to protect the victim or warn the victim's parents. Similarly, an institution can be a defendant if it did not take steps to remove abusers from positions of power and otherwise protect persons at a risk known to the institution; thus the Catholic church has been found liable for moving accused priests from parish to parish rather than protecting children from them. Institutions often have much more wealth than the alleged abuser, so they are a favorite target of plaintiffs' attorneys.
Civil abuse claims are brought by the alleged victims, not the state.
Finally, civil abuse claims are not prosecuted by government attorneys. A victim has to take some initiative to engage a private attorney to sue the defendant for them. 
In a civil case, a defendant does not have many of the protections they would have in a criminal case. The defendant has no right to remain silent; they are routinely forced to reveal information, such as their account of what happened, at the request of the plaintiff. And a defendant often has to fight harder than in a criminal case to get information from the plaintiff.
Most civil abuse claims end in a negotiated settlement rather than in trial. The cost of litigation through trial would be high for both sides, and trial always carries risk, no matter how strong one's case seems. Thus both sides have strong incentive to settle. But even if one assumes a case will settle, it matters a lot where it settles—with the defendant paying a lot, or only a little. 
What to do if you're facing a suit like this
Whether you're facing a civil claim or a criminal charge for sexual abuse, the experience is harrowing. You have your reputation at stake and, if it's a civil money damages claim, your life savings, too You need a strong legal defense team such as the Marshall Defense Firm.
If you or a loved one is in this situation, we can help. Our attorneys are experts in the field, with plenty of experience helping people facing both civil and criminal sex abuse and sexual assault claims. Contact us at 206.826.1400 or solutions@marshalldefense.com to schedule a consultation.