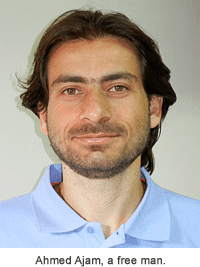 Ahmed Ajam Released from Guantanamo Bay Detention Center by Obama Administration
The Obama administration announced on December 7, 2014, that it had released six prisoners who had been held at the Guantanamo Bay detention center. Among the six was Ahmed Ajam, a Syrian, who had been held at Guantanamo since 2001 without ever being put on trial.
David Marshall represented Mr. Ajam in his legal battle with the US government, taking on the case pro-bono and mostly paying for translators, flights to Guantanamo, and many hours of work out of his own pocket.
In an interview with Seattle's King 5 News, he provided one of the primary reasons he agreed to represent Mr. Ajam:
"You don't hold someone indefinitely without trial. If you've got somebody who you think you need to imprison for a long time, then you give them a trial, give him a chance to show that that's not the case."
David has had other notable pro-bono cases. He was one of the lawyers who received the National Law Journal's Pro Bono Award for 2000, for freeing persons wrongly imprisoned in the Wenatchee, Washington "child sex abuse ring" scandal. The Washington Association of Criminal Defense Lawyers and the Southern Center for Human Rights have also honored him for his work.
David will be discussing his Guantanamo experience in two upcoming engagements. On February 13 he will be a guest speaker at the Alderwood-Terrace Rotary in Edmonds, Washington, and on February 15 he will speak at the Adult Forum at Plymouth Church in Seattle. The second event is at 10:00 a.m. and open to the public.