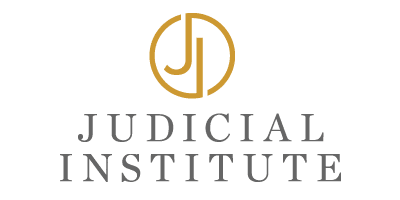 Aimée Sutton Participates in Judicial Institute
Aimée Sutton recently participated in the Judicial Institute, which offers a series of presentations sponsored by the Seattle University Law School for secondary school teachers. Aimée and a federal prosecutor worked together to present a mock voir dire (jury selection) session with about forty school teachers in Judge Donohue's courtroom. With the teachers serving as mock jurors, the "prosecution" and "defense" asked questions of the teachers, just as they would in a real jury selection.
The Judicial Institute seeks to help teachers understand the legal process in a way that they can share with students. Having the opportunity to witness and learn about the process through this hands-on demonstration enables teachers to bring more realism into their classroom lessons. As one teacher enthusiastically said to the program organizer, "We all took a lot from it as citizens interested in our government and as teachers interested in bettering our practice."
Ms. Sutton is very pleased to have the opportunity to give back to the community through her volunteer participation in the Judicial Institute.
At the Marshall Defense Firm, we represent people accused of assaults of an especially sensitive nature—sexual assault, assault of a child or an elderly adult, and domestic violence. We defend our clients in criminal cases and also in civil suits and administrative hearings. With more than 18 years of experience in this particular area, David Marshall and his team are committed to providing the very best representation to persons accused of child abuse and other special assaults.