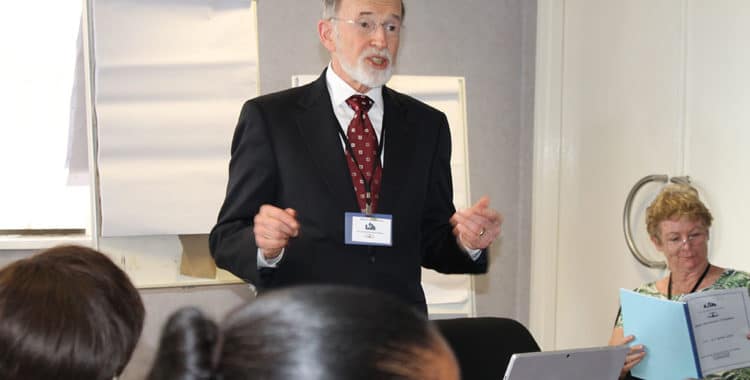 Marshall Teaches Trial Advocacy in Botswana
"I put it to you . . . that you are lying!"
While a cross-examination "question" like that one leaves no doubt about the cross-examiner's zeal, it is not likely to advance his client's cause. Yet that sort of cross-examination has long been a staple in many courts in Africa.
In April 2018, David Marshall joined a group of Botswanan lawyers in a program to elevate trial advocacy in Botswana. David taught for a week by invitation of the Law Society of Botswana and Justice Advocacy Africa. JAA, an organization created and nurtured by Seattle attorney Steve Fury, has planted trial advocacy training programs in four African countries that, like the United States, inherited the common law from imperial Britain. The others are Uganda, Kenya, and Malawi.
The JAA curriculum is based on that of the National Institute for Trial Advocacy. It also includes some of the communications, acting, and confidence-building exercises used at the Trial Lawyers College.
David was one of two U.S. faculty members at the Botswana program. He said, "It was a delight to work alongside some outstanding Botswanan trial attorneys. They had benefited tremendously from attending Justice Advocacy Africa programs years ago."
One goal of the program is to encourage attorneys to work pro bono publico at times. The program director therefore invited David to speak about his eight years representing Guantanamo prisoners.
One aspect of the Anglo-American system of justice does not appear in the trial courts of Africa: trial by jury. But David had the rare experience of working with African lawyers who do try cases to juries. The attorneys he taught included four from the Botswana Defence Force, the country's military. In BDF courts-martial, the accused has the right to jury trial.
Donations to support Justice Advocacy Africa's work are tax-deductible.